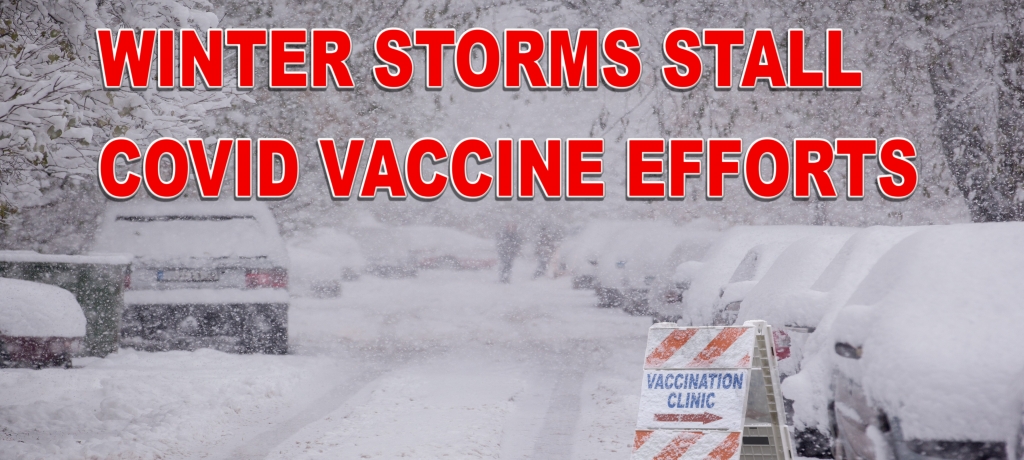 REGAIN COVID VACCINE MOMENTUM
The icy and snowy blanket across much of the U.S. created more confusion, frustration, and delays into the nation's COVID-19 vaccination efforts just when it was gaining speed, delays in vaccine deliveries, and forcing the cancellation of countless shot clinics and hubs around the country.
In Texas the rolling blackouts caused many vaccination sites to close causing delays that immunizations that could set back the process days if not weeks. The sites that were closed are being encouraged to increase their hours, stressing the already tired volunteer workforce.
In New York City, Mayor Bill de Blasio said "doses expected this week were delayed by weather elsewhere in the country, forcing the city to hold off making 30,000 to 35,000 vaccination appointments". In a city of 18,351,295+ people that makes reaching those in need even that much harder. Anything that can be done to expedite the delivery to those in waiting will be an advantage.  Mobile Shot Clinics, Drive-Thru Centers, even more, neighborhood sites will help, but the key is to keep the line moving.  
One bottleneck in the process is the enrollment of shot recipients. Manually filling out forms and vaccination cards requires many to sit down, fumble for a pen, or use one at the site that may or may not be sanitized.  What if the initial enrollment process could be automated in a quick 5 seconds?

canning of a client's Drivers License or other Government ID barcode allows for contact information to be gathered, then a quick scan of a QR code with the shot type and date of the next vaccine can be printed using a small portable Bluetooth printer. Scanners can be used to walk down the line or parties standing at a center, or presented at a car at a drive-thru site, or at the walk-up window at a pharmacy. Labels then adhere to the recipient's shot record and additional labels added to internal forms.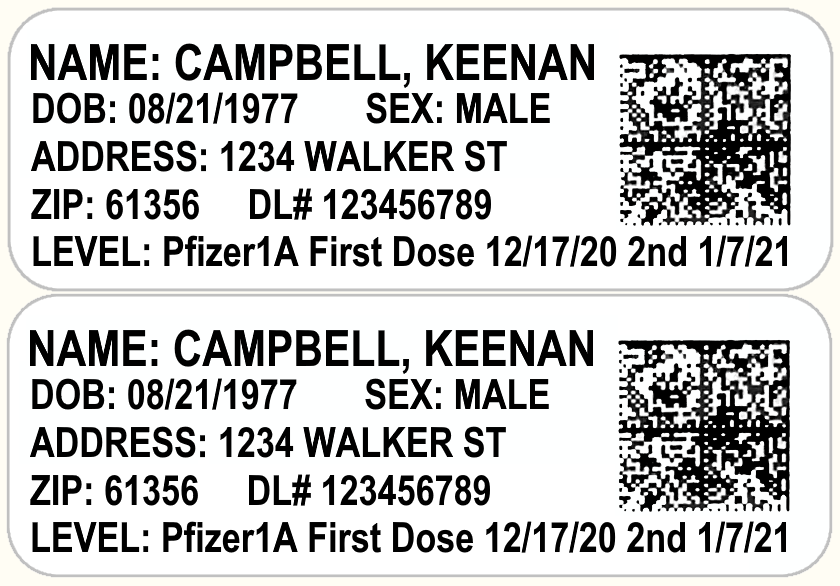 No more issues with illegible handwriting, language barriers, or the need to sanitize pens. Helping to keep the line moving, and the ability to put shots in arms moving in a steady stream. You can see the ease of using this system at https://www.diamondbusiness.net/covid-19-vaccination-label/
We would love the opportunity to visit with you and show you a quick zoom demo of the system. We are also able to offer this solution on TIPS, TORCH, And CHOICE PARTNERS Contracts.
Contact us at Diamond Business Services 806-373-4148 | 800-749-9025 or at sales@diamondbusiness.net