Automated Temperature Verification System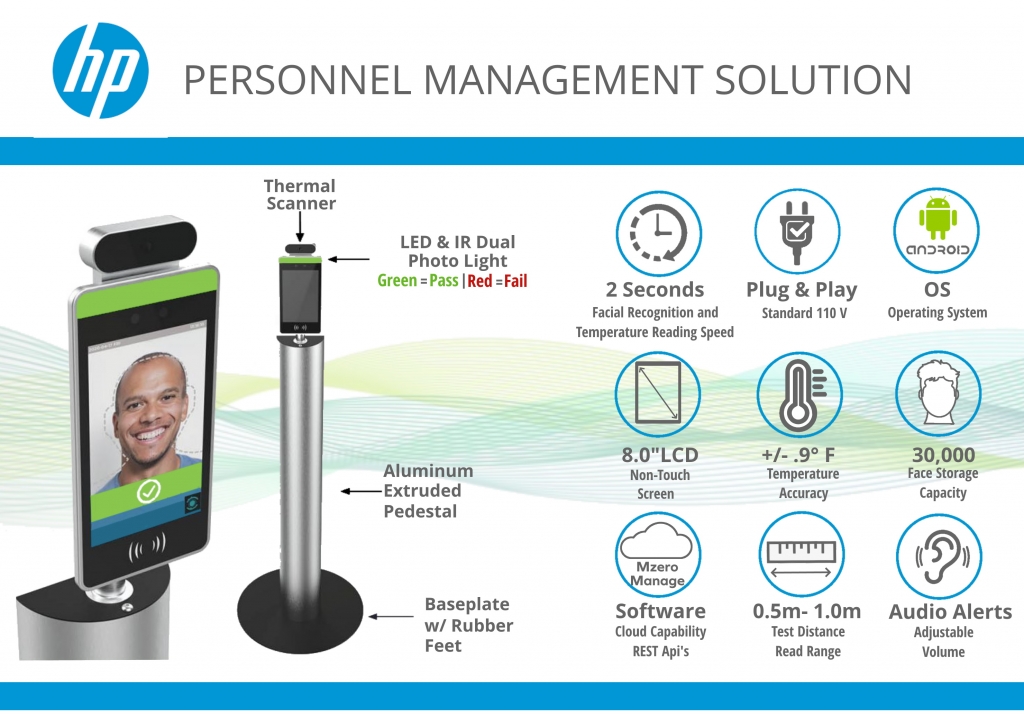 Our Personnel Management Kiosk features check-in and temperature verification capabilities. The solution can also be programmed for facial identification, with users easily added in a few short clicks.
Designed to help protect the health and safety of both employees and guests by preventing anyone with a temperature, or unauthorized access from entering a facility. Alarms can be added to sound when those above the temperature threshold and those without access attempts to enter.
Highly Accurate Results
When it comes to accuracy, the Temperature Screening Kiosk leaves no doubt. Reading in with only a +/-0.9 degrees Fahrenheit variance, it captures a range up to 107.6 Deg F. Detection comes easy with the use of an LED and IR dual floodlight, so the scanner can still perform its temperature reading even in poor lighting conditions.
Stands Available With Antimicrobial Powder Coat Finish

Freestanding & Countertop Options

Supports Detection & Tracking of Multiple People at the Same Time

Facial Recognition Library up to 30,000 People

Temperature Accuracy ≤ ± 0.9°F

Temperature Range 50°F ~ 107.6°F

2.5 W / 4R Speakers

2 million Pixel Camera

Digital Signage Integration
MSRP $ 3,195.00 Contact us for quantity pricing
ywhere, For Anyone:
The Temperature Screening Kiosk is beneficial in any business or public environment but is particularly ideal for entry points, access gates to buildings, school campuses, healthcare clinics or hospitals, community events or public venues, hotels, retail stores, and transportation hubs.
Additional Access Control Features
The Temperature Screening Kiosk offers additional features that may be enabled if your facility manages an access control system. Integration set-up is required and is managed by the customer.
Live Facial recognition: The Temperature Screening Kiosk comes with the ability to scan for facial recognition that matches an employee. Facial recognition can even process face-with-mask recognition, ideal for essential healthcare workers or employees entering your building wearing a face mask for extra protection.
Supplemental Peripherals: Expand gate passage via the kiosk with peripherals such as ID card readers and fingerprint readers that interact with your access control system (additional integration required).
Availability:
Our temperature screening kiosks are currently in high demand. The current lead time is 4-weeks for standard kiosks with additional time required for custom options (branding, battery options). Orders will be fulfilled on a first-come, first-served basis, so we recommend getting your order in as soon as possible. Note: Due to the special-order nature of all of our temperature screening kiosks, we are unable to cancel orders after they have been placed. Temperature kiosks are ineligible for returns, except in the case of warranty repairs or replacement