Take the Uncertainty Out of Remote Staff Management
Many businesses have had remote employees for years, but the COVID-19 pandemic has triggered the largest shift toward that operating basis the likes of which no one could have foreseen. Practically over night many companies have had to adjust their labor policies in order to comply with local, state, and Federal guidelines and laws during this health crisis.
If you have been struggling to manage your remote staff under these cloudy times, understand there is a silver lining in the form of a simple, highly affordable management tool that will help you regain some financial certainty, accountability and visibility among your people where ever they happen to be working.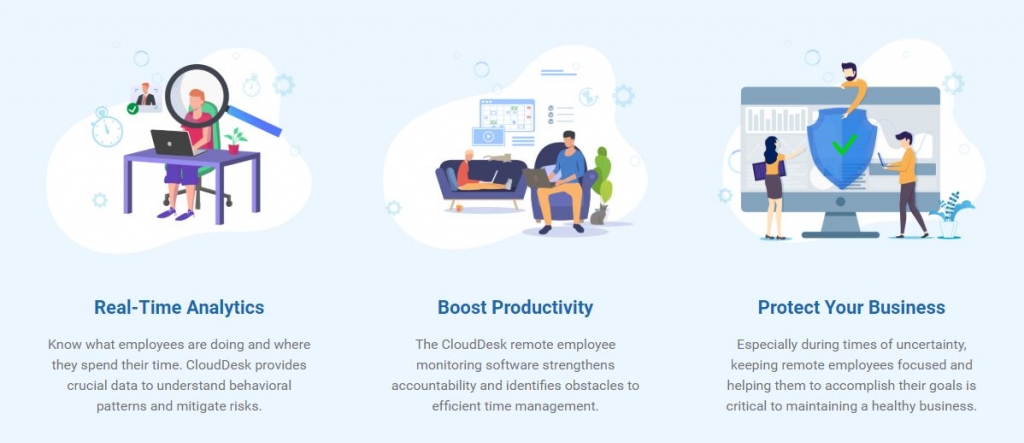 It's called CloudDesk and it will help you keep a sharper set of eyes on your remote staff, as well as help automate your timekeeping.
No, it's not a spy camera we're talking about. CloudDesk is a robust remote employee management software powered by CloudApper® that helps both you and your teamwork smarter to ensure everyone's hard work and effort is on track with targets and goals. For just $10 per user per month, you can use the app to monitor what employees are doing and where they spend their time. It strengthens accountability and identifies obstacles to efficient time management. It helps to keep staff focused and on track toward vital targets in order to maintain a healthy business which is good for the entire group.
So, let's glance at some features:
Remote Check-in

– Enables employees to check in when they start working. Secure facial identification confirms attendance throughout the workday.

Attendance Confirmation

– CloudDesk periodically prompts employees to confirm their engagement throughout the workday.

Robust Insights

– Capture key attendance and application activity data to reduce bottlenecks and raise productivity.

Flexibility

– Support for web and mobile apps (Android and iOS) enables admins to manage user settings and analyze data across various devices.

This app is the simplest business decision you could be faced with at this time!
Keeping your remote employees focused protects your business from unwanted loss. As a result, operations and goals remain on track and attainable despite the challenges a world pandemic presents. It requires minimal set up and training, and as we said before, it only costs $10 per user/month. No long-term contract required. That subscription also provides your access to other productivity apps offered through the CloudApper platform.
Interested in a free trial? Have questions? We're happy to help. The sooner your reach us, the faster you will be hooked up to the greater peace of mind that comes with an environment built on trust, accountability. Subscribe today and the first three user accounts are free.