The Newport Marriott Enhances Their Buffets with Edikio Guest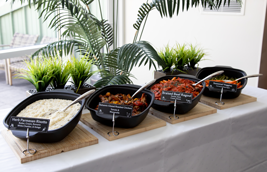 The Challenge: Outdated Labeling System Could Not Keep Up with Demand
The Newport Marriott contains 3 restaurants within the 320-room hotel. With each restaurant serving a minimum of ten different dishes at multiple buffets, it was necessary to find a solution that would satisfy the hotel's buffet labeling needs in a simple, economical, and upscale manner. Prior to the implementation of the Edikio Guest Flex solution, the hotel used an old version of a computer labeling program, which was bulky and awkward to employ. The paper buffet tags took a great deal of time to reproduce and had to be discarded after every use. The result was not nearly as elegant as what could be created by the Edikio Guest Flex solution.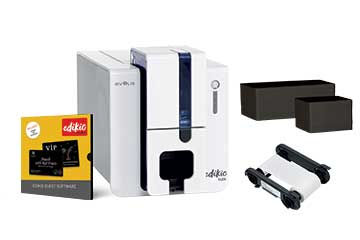 The Solution: Elegant, Flexible Buffet Tag Solution is Just What the Hotel Ordered
The Edikio Flex solution was exactly what the hotel required, providing an innovative card solution which allows the immediate printing of polished breakfast, lunch, and dessert buffet tags. Each tag displays:
the hotel's logo
food graphics
icons for allergens
ingredients, and other useful information.
As this is an international destination, the cards are printed in multiple languages. He and his team were immediately impressed with the card templates, 350 icons, and the ability to import logos in the Edikio Guest software.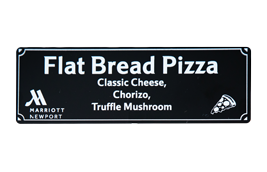 The Results: Informative Labeling Takes Buffet Aesthetic to the Next Level
The hotel staff and guests appreciate the upscale, professional look of the buffets. The cards help the customers identify food items and obtain much needed information while facilitating buffet circulation. With Edikio Guest Flex, the Newport Marriott buffets now boast:
Enhanced Brand Image – Create aesthetic and professional presentation labels that reflect your business and reinforce your visual identity.
Clear and Complete Information – Clearly indicate all the necessary information to your customers and help them make a quick and informed choice: naming products in their language, ingredients, allergens …
Maximum Flexibility – Benefit from total autonomy by creating your own presentation labels within a few minutes yourself.
Hygienic and High Quality – Hygienic, resistant and easy to clean, the PVC card is particularly suitable for food environments.
« The Edikio Guest Flex solution allows us to create an elegant look on our buffets and far surpasses anything we have used to date. Our experienced banquet staff appreciates the fact that they can be reused, which saves us time. »
Brian Glenn Sr. Banquet Manager, Newport Marriott