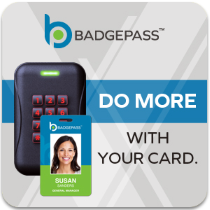 What's Next for My ID Card
Re-posted with permission from BadgePass and edited
We have spent years working with customers all over the country to create unique, high-quality photo ID badges for their organizations. Sure, it is awesome to have an ID badge for identification purposes. And many of those facilities use their badges for just visual identification. We all know that wearing a visual form of ID in any organization helps to increase security and awareness about who belongs in the building and who does not.
However, recently, many of our customers have been coming to us asking, "What's Next?" They already have issued Photo ID badges to everyone in their organization. Now it is time to think about other applications they may want to use those cards for. Are you in a similar situation? Here are some things you may want to consider for your own system growth.
Do you want employees to be able to use their Photo IDs to gain access to specific doors in the building and be denied access to others based on their security privileges?
Consider implementing an electronic door access system. When you do, make sure it will work seamlessly with your badge issuance software. You will want to make sure you can instantly enroll user information and print photo IDs from the same software that you assign security rights in. Why is this important? This allows a badge to be used to access doors as soon as it comes out of the printer – saving you the hassle of having to enroll users in two separate systems! This also allows for lost cards to be instantly deactivated any time a new card is printed, keeping your system up to date with only currently "active" cards that are assigned to active users.
Have you considered a system for clocking employees in and out when they arrive and leave work each day?
Think about using your cards for more than just door access. Employees can manage their time cards by clocking in and out via a smart card reader every time they enter and exit the building, ensuring accurate time cards that can later be edited and approved by a manager before being exported to a third-party payroll system. Why is this important? It saves you money if you can ensure your employees are arriving and leaving on time. By choosing a time and attendance system that is fully integrated with your badging software, you can simplify the enrollment process into your time clock system.
Who else do you need to identify?
Do you have visitors, volunteers, contractors or other guests that are in and out of your building and need a form of identification? Consider electronic visitor management software for registering and tracking those guests. By scanning their driver's license data, you can ensure fast and accurate enrollment of all visitors. Then, choose to print a customized visitor pass for each person or think about granting temporary access rights to limited doors or areas of the building with QuickPass smart cards! Why is this important? It ensures your visitors are properly identified during their visit without slowing down the check-in process and allows you to look back and see who has visited in the past.
Talk to an ID Expert at Diamond Business Services
Whether you have photo IDs today or are just starting to think about implementing a badging system, it is important to always be a step ahead and start planning for how you want to use those credentials in the future. Consider future security applications you may want to use those cards with and how they will integrate with your photo ID software.
See our guide to CHOOSING AN ID CARD SYSTEM at  https://diamondbusiness.net/choosing-an-id-card-system/
Allow http://www.badgepass.com and Diamond Business to help take you to the next level of security.   www.diamondbusiness.net   806-373-4148  |  800-749-9025  sales@diamondbusiness.net