BOTH WERE GREAT AT CREATING A FAKE ID
Ford in the movie 1993 movie The Fugitive took an existing hospital ID  that was of the "old school post a picture on a piece of cardstock and laminate it"  style and cut way the owners picture and replaced it with one of his own.   WOW, this was very ingenious at the time and made people reassess the security of their badges – thus giving a big push to the Direct to Card ID market.
Doing away with this method of lamination and moving to a dye sublimation style card seemed to be the perfect fix to prevent counterfeit cards…but that did not last long.  You could no longer cut away the old phone and replace with a new one as it was permanently part of the card.
Direct to card printers would literally embed the color of the images, text, and logos into the surface of the card.  If you tried to alter the image by scratching away the color it was very easy to see and typically left deep, visible scratches on the card.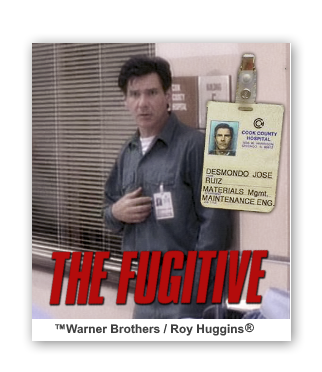 Nathan, on the other hand, used his computer skills to create a somewhat poor copy of an ESPN field access badge.  Unfortunately, this copy was not caught by the security personnel and Nathan was let into the game and allowed access to the sidelines of the  Clemson University football field.
The actual ESPN badges were supposed to be unique and secure enough to prevent unauthorized use.  They were oversized which has become the trend in Athletic, and Event badges.  But was that enough?   Apparently not, or the security personnel was not aware of any unique features to the badge.  But Nathan was smart and showed up looking professional and carried himself as someone who should be part of the on-field team.   Appearance was part of the reason he was successful
Nathan was smart and showed up looking professional and carried himself as someone who should be part of the on-field team.   Appearance was part of the reason he was successful  If someone showed up in your building in a sharp suit, or a briefcase, or perhaps with an id walking through the halls of a school…would you know for sure if that person was supposed to be there?
DO your ID credentials have unique features to set them apart from bogus badges.  Unique colors, inlaid foils or color shifting inks, holographic overlays, colored cores, UV images, micro-printing, or even custom printed lanyards or badge holders.  What are you doing to ensure your security and protect your people and your property?
From Standard CR 80 Card Sizes or Oversized Credentials – we have solutions to help make your ID management more secure and streamlined.
We have several options for oversized cards.  These are ideal for  ATHLETIC EVENT PASSES, CONCERTS, VIP PASSES, KEEPSAKE ITEMS, AND MORE
We offer these oversize badges for thick card stock or plastic card media – so if it is a one-time use then perhaps paper is the best way to go, but for longer use PVC is ideal.
We offer to consult with you to help you understand the different elements that can be added to your credentials to ensure counterfeiting is no easy and ideally not possible at all.
Working with the leading card manufactures and card printers we know what works well together and new features that can be added or enhanced  – all with your budget in mind.
The link below will show you some ideas on how to keep your credentials unique and secure.  Our experts are here to help you learn even more.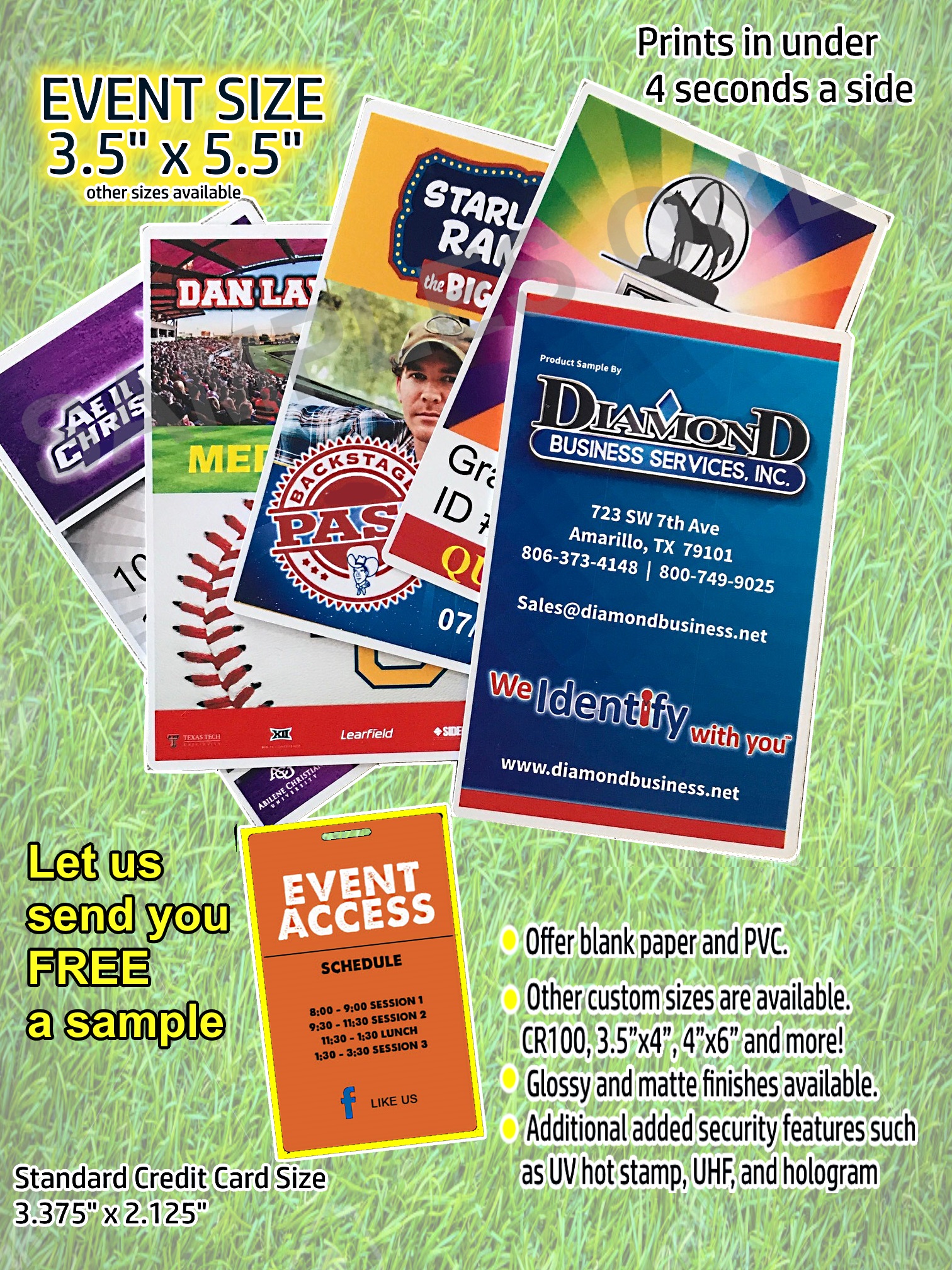 THE IMPORTANCE OF SECURE IDENTITY
Information is shared across the world in mere seconds with the click of a mouse or press of a button. It's no longer a
safety measure but a responsibility for an organization to protect its people, facilities and intellectual property from
being compromised on a global scale. Building a protected virtual or physical environment starts at the first point of
contact: secure identification.
Let our team of experts hear your concerns and work with you to find the perfect solution for your needs.
sales@diamondbusiness.net